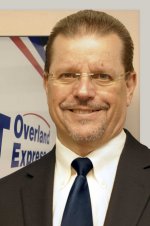 TST-CF Express can trace its roots back to Woodstock Transport, a company created by Mr. Samuel Axelrod in 1928 in my home town of Woodstock, Ontario. Mr. Axelrod owned a number of businesses at the time, including one that my grandfather worked at and drove a truck for. So, coincidentally, I suppose it's fitting that I've spent most of my career at TST.
I'd like to welcome you to the TST-CF Express website. Our aim is to provide you with timely and accurate information that allows you to effectively manage your supply chain. If there are additional features you think would be helpful, or you have questions about the information we have put forward, please reach out and let us know. Our improvement plans are meant to continuously enhance that customer experience by constantly raising the bar. As we explore new technologies and processes to elevate our product, it is with an eye on that customer experience and the efficiency in which we deliver our service that guides our way.
As you may know, our core service is LTL transportation throughout North America and over the years, through feedback from our customers, we have augmented that offering to include a number of ancillary services. Products including guaranteed services, expedited deliveries, "white glove", trade show, time specific product distributions, air freight and even air charters. This list could go on, but I trust this gives you a feel for what we can offer beyond our core service.
For those of you that use our services today, a sincere thank you for your support. For those who have yet to try TST-CF Express, please reach out to us, we'd love to talk about what we can do to enhance your supply chain. Just call your local representative or if you are unsure of who to call, our centralized customer service team is here to help at 1-888-878-9229.
Thank you for taking the time to read this message and we look forward to hearing from you soon.
Sincerely,
Wayne Gruszka
President
TST-CF Express